Care & Maintenance /
Home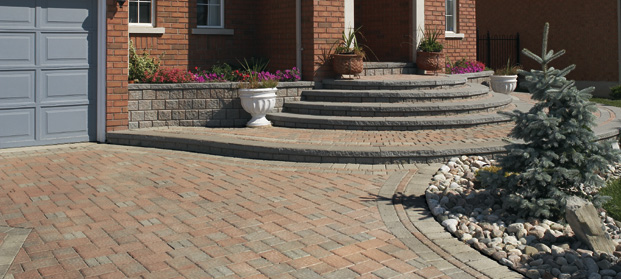 Care & Maintenance
Product Warranty
Navascape products are backed by a lifetime warranty to the original purchaser of the products for residential applications. This assurance of product quality is applicable where products have been correctly installed to meet the manufacturer's specifications. Color variances and the appearance of efflorescence do not constitute a warranty claim.
Any defective products will be replaced; however, replacement labor and transportation costs are not included in this warranty.
All warranty claims must be made prior to the removal or disposal of the defective product; approvals must be in writing. This warranty is not transferable. Proof of purchase is required.
Product used in commercial applications is subject to a one year warranty unless otherwise agreed in writing.
Efflorescence
Efflorescence is a chalky white residue that may appear on the surface of any concrete product. Salts that naturally occur in concrete are carried to the product's surface by water. When the water evaporates, the salts are left on the surface of the product as a white haze. The process will stop when no more salts are available to move to the surface. The length of time this takes can vary greatly, depending on granular materials used, climate and other factors. It is strongly recommended that you wait a minimum of 12 weeks after installation before sealing a project to ensure this process is complete. Sealing too early can trap efflorescence underneath the sealer, making it extremely difficult to clean.
Efflorescence does not affect the structural integrity of the product and is not considered a defect. With proper maintenance, efflorescence can be removed and the original color restored. The condition will usually correct itself with time and exposure to the elements or it can be removed more quickly using an efflorescence cleaner.
Efflorescence cleaner is not recommended for use with NaturalCast architectural tiles and accent products due to their highly detailed surface textures. If it is absolutely necessary to use an efflorescence cleaner with these products, the following precautions should be taken:
Add 50% more water than recommended by the cleaner manufacturer (example: if cleaner requires a standard 4:1 dilution, use a 6:1 dilution).
Test on an extra stone or in an inconspicuous area first to ensure that the result is acceptable.
Apply to small areas at a time to prevent the cleaner from drying on the stones.
Rinse, rinse and rinse again. The area should be rinsed thoroughly for several hours. Volume of water is the key, not speed. Pressure washers are not recommended.
Cleaning & Sealing
Using a sealer on a paving installation is a matter of personal preference. A sealer does not affect the overall durability or performance of the paver or tile but may enhance the color of the product and offer some protection against stains.
Before sealing an installation for the first time, any stains should be removed and the entire surface cleaned with an efflorescence cleaner. Use only cleaners and sealers specifically formulated for use on concrete pavers and follow the manufacturer's instructions. Always test the cleaning product on a small, inconspicuous area first.
Sealers can be either solvent or water based. Solvent based sealers are available in either a flat or a gloss finish. Water based sealers typically leave less gloss on the surface and are an environmentally friendly choice. Be sure the sealer you choose meets local environmental laws prior to use.
We recommend cleaning paved surfaces yearly to remove impurities and maintain the overall appearance of the paving stones. Spills should be treated immediately to prevent staining. For stubborn stains that just won't come clean, individual pavers can easily be removed and replaced with new ones. It is recommended that you reserve a small quantity of paving stones or tiles at the time of installation for this purpose.
Due to shipping regulations for dangerous goods, cleaner and sealer products are not available for delivery. These products are available for customer pick ups only. Materials will not be provided to third party carriers.
Winter Maintenance
Navascape products are regularly tested for durability resistance to de-icing salts, in accordance with current Canadian standards. However, excessive salting can result in the deterioration of any concrete product. We recommend using a salt/sand mixture on icy walkways and driveways. In the spring, the residual sand can be swept into the joints.
Not all non-salt ice melter products are suitable for use with precast concrete. Consult the ice melter manufacturer for recommendations.