Installation Guidelines - Overview /
Home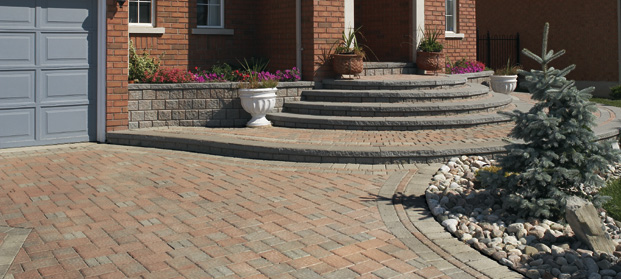 Installation Guidelines - Overview
Planning and Design
When planning a project, taking the time to do a little research and planning will ensure that your project is successful. Consider the unlimited design potential of Navascape's shapes, sizes, colors, patterns and textures. Browse our
Inspiration Gallery
if you need help to get started.
Once you have a design in mind, measure the significant features of the area you are considering – buildings, fences, trees, etc. – as they can affect the layout of your project. If you plan to install the project yourself, design the project to minimize cutting.
When planning a garden or retaining wall, you should ask yourself several questions to ensure your finished installation will look great and last a lifetime.
How high will the wall be? Height of the wall should always include a minimum of one buried base course in addition to the height above ground. Different blocks have different height capabilities. Be sure not to exceed the maximum recommended height for the wall product you choose. For a variety of design and assembly options, click here.
Will the wall be straight, curved or both? Navascape walls can create circles, soft flowing curves, straight linear designs or any of these in combination. Measure the curved and straight sections of the wall separately to make estimating easier.
What is the purpose of the wall? Some wall products are suitable for large retaining wall projects while others are ideal for small garden walls or planters.
Will the height of the wall vary? If the property has a slope, the wall height may vary accordingly. To make estimating easier, break the wall up into sections of equal height, always maintaining one buried base course.
Will the wall be terraced? If so, the front of the upper wall must be at least 1.5 times the height of the lower wall behind the back of the base course of the lower wall (see diagram).
What setback do you need? Some Navascape wall products are capable of achieving vertical walls and other products have an automatic setback. Vertical walls typically can't go as high as setback walls without reinforcement. In addition, setback walls may require less product. When planning and measuring, keep in mind that a single setback moves the top of the wall back 25 mm (1") per course from the front of the base course.
Walls that exceed the maximum recommended height, walls in areas of poor drainage and walls with extra loading at the top may require special engineering. Please contact your local Navascape Dealer for more information if your wall falls into one of these categories.
Tools Required
Doing the job well and safely means having the proper tools. If you do not have these items readily available, they may be available for loan or rent from your local Navascape Dealer or tool rental store.
Hard toothed rake
Hammer
Tape Measure
Chalk line or string line and stakes
Chalk Marker
1" screed rails (e.g. pipe)
4' hand level or transit level
Wheelbarrow
Pointed shovel
Paver cutter or masonry saw
Vibrating compactor or hand tamper
Push broom (for paving installations)
4" wide chisel (for wall installations)
Personal protective equipment (steel toed boots, gloves, eye protection)
Estimating & Ordering
Accurately measure and draft a plan of your project. An exact plan will enable you to accurately calculate the material quantities you will need to complete your project. In addition to your chosen Navascape products, you will need the following materials to ensure a quality installation.
Base Material: 0–25 mm (0–1") sized, well-graded, crushed, angular, free-draining gravel material with no more than 8% passing through the No. 200 sieve. Typically, crusher run or road gravel used by your municipality is an acceptable material. Base material is installed over the original, competent soil (not topsoil).
The depth of base material required is determined by your application. 100-200 mm (4-8") is an acceptable depth underneath patios, walkways and most garden and retaining walls while 200-300 mm (8-12") is required for driveways and parking areas. Click here for typical paving cross-sections. Special consideration may be required in areas of poor drainage, or for walls exceeding the maximum height or with additional loading at the top. Consult your local Navascape Dealer for advice regarding base requirements in these circumstances.
Backfill Material (walls only): Use compactable, free draining sand and gravel mix with less than 8% passing through the No. 200 sieve. This is typically referred to as concrete sand or bank run and can be sourced through your local Navascape dealer or gravel pit. For simplicity in ordering your granular materials, the base material specified above can also be used for backfill. Pea stone, clear stone (No. 57), existing site soil and topsoil are not suitable backfill materials.
The depth of the backfill material may vary, depending on the application of the wall. Consult your local Navascape Dealer for specific advice regarding your project.
Landscape Adhesive (walls only): An adhesive should be used at corners and to glue the coping course of the wall in place. For more information about available adhesives, please click here.
Coping Blocks (walls only): Navascape manufactures several attractive coping options for our retaining wall systems. In addition to our standard retaining wall coping blocks, consider using bullnosed StoneTile for a unique coping alternative.
Setting Bed Material (paving only): Use 25 mm (1") of clean, sharp sand (i.e. concrete sand).
Edge Restraint (paving only): To prevent shifting, an edge restraint is highly recommended along all edges not abutting a structure such as a building or a wall. For more information about available edge restraints, please click here.
Jointing Material (paving only): You will need approximately one bag of jointing material for every 7-9 m2 (75-90 ft2) of paving stones or 9-12 m2 (100-125 ft2) of architectural tiles or paver slabs. When selecting a jointing material, remember that regular joint sand needs to be reapplied annually while a more durable polymeric sand requires less maintenance. For more information about available jointing materials, please click here.